$100 Monthly Dough Giveaway
Every month Rushmore gives $100 in dough directly to our members for doing rad stuff
Every month members snap up Erndo for posting photos tagging "@"rushmore society.
Every month a super member earns Erndo while going above and beyond at a Rushmore event.
Every month we salute the top member recruiter spreading the Do More, Live More spirit.
Every month one lucky member scoops up Erndo just for being a member.
Take & Tag photos on Social Media
Snap a photo anywhere, anytime the Do More, Live More spirit strikes you. Tag Rushmore or Erndo using the "@" symbol on Facebook or Instagram. Wait for our logo icon to pop up. Choose it. Make sure it's tagged. Poof, you're entered.
Every ten days we award $10 in Erndo. At the end of the month we award another $20, for a total of $50 in Social Share Erndo dough.
Go the extra mile at an event
All of our members are super. Often, they are also SUPER DUPER and we notice that. Be extra welcoming to a non-member. Give a current member a boost. Simply be awesome and help Rushmore run smoothly (hey, there are a lot of moving parts here).
Whatever it is, be SUPER DUPER! and get $15 in Erndo.
Spread the Do More spirit
Word-of-Mouth is the strongest way for Rushmore to grow. At the coffee shop, at the gym, at your wine club, Rushmore is often a topic of conversation.
Now, when you request, we provide MEMBERSHIP CARDS with your own personalized fun membership code on the back.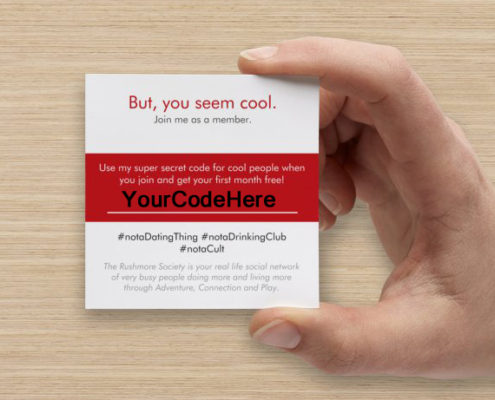 Give your card to anyone, anytime Rushmore comes up. When they become a member using your personalized code, you BOTH get a FREE month of fun and adventure.
DOUBLE BONUS: at the end of the month, the member who spreads the Do More spirit the most by adding new members get $20 in Erndo!
Just get lucky
Sit back and relax! You just might get lucky. Every month we draw a name from the membership and award $15 in Erndo just for being a member. Easy-peasy, life and spending dough is easy!
It only works if you use it
Using Erndo is quicker and easier then using a credit card (blah, that's so 2002). Give it a try a few times. Once you get the hang of it, you'll be supporting and exploring the local business scene, while banking HUGE REWARDS for FREE!