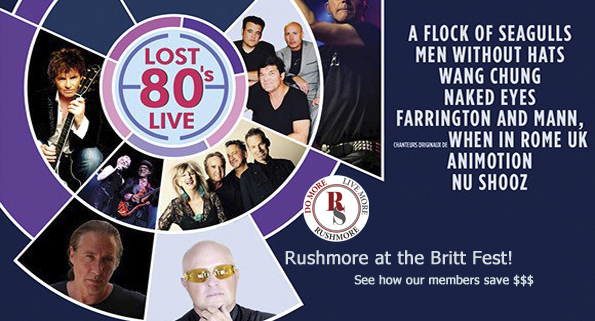 MEMBERS: $34-40 — NON-MEMBERS: $43
LIMITED TICKETS REMAIN, DON'T WAIT!   
R) All your fave 80's Bands
U) Flock of Seagulls + Wang Chung
S) Escape Club + many, many more
H)😍Silly Social Rushmore Vibe😍
LIMITED TICKETS – BIG DISCOUNTS:
The Rushmore Society, your real life social network of very busy people, invites OUR MEMBERS and their +1's to get Lost in the 80's, Live at the Britt Festival in Jacksonville this August.
RSVP "GOING" ON FACEBOOK RIGHT HERE
THE SHOW:
You'll Never Forget Your First Time….
Was it really that long ago when synthesizers and cotton-candy hair seemed oh-so modern?
Not for The Lost 80's Live, this Reagan era tour features some of the most recognizable acts from that great decade, featuring: A Flock of Seagulls, Wang Chung, The Vapors, The Motels, Boys Don't Cry, The Escape Club, Real Life, Farrington and Mann (the original members of When In Rome UK).
NOT A MEMBER? YEAH, IT'S TIME:
USE THE CODE "Rush2019"
😍TO BECOME A MEMBER😍
GET YOUR FIRST MONTH FREE
COMPLETE EVENT DETAILS:
PRE-SHOW CONNECTION: No-host drinks and fun starting at 5 pm at Bella Union outdoor deck (3 blocks from the Festival).
PICK UP YOUR TICKETS CONNECTION: the gates open at 5:30, the show begins at 6:30 pm.
***When you arrive, pick up your individual tickets at the Will Call Box Office under "Rushmore".
Then, meet the crew on the lawn. Murray will arrive early to lay down blankets. Wear your SWAG and finds us!
COST: (this costs the general public $43)
ROYAL MEMBERS: $34
FERRIS MEMBERS: $37
MURRAY MEMBERS: $40
NON-MEMBER PLUS-ONES: $43
**Non-refundable, but we are happy to help you resell tickets if you are unable to attend.
RSVP "GOING" ON FACEBOOK RIGHT HERE
The Rushmore Society is your premiere real life Social Network of Very Busy People living life through Adventure, Connection and Play. Do More, Live More, Rushmore.