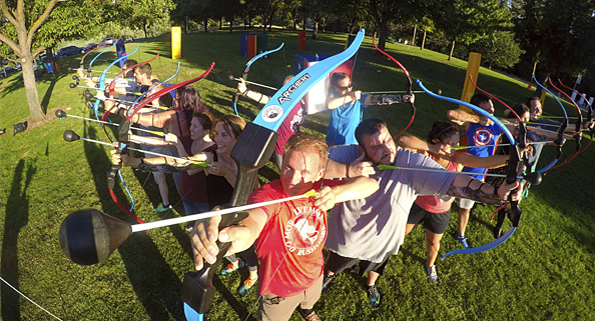 🤸‍♀️🤸‍♂️2019 SUMMER PLAY SERIES🤸‍♀️🤸‍♂️
JOIN US

ARCHERY TAG

IS ON


🤸‍♀️THIS AIN'T FOR KIDS – NO, NO🤸‍♂️
R)👇Eleven Signature 'Play' Events👇
U) Part of our 2019 Summer Series
S) 🤪🏃‍♀️Archery Tag Returns🏃🤪
H) Post Play Party at Standing Stone
ALL ARCHERY TAG DETAILS BELOW:
The Rushmore Society, your real life Social Network of Very Busy People, invite all to join us at North Mountain Park in Ashland for a sweaty evening of being a kid again, with arrows flying everywhere!
ARCHERY TAG COMPLETE DETAILS:
WHAT: Archery Tag isn't with LASERS, but with soft tipped arrows. You'll be shooting (soft tip) arrows at your opponents while dodging and diving around pre-designed obstacles. Pretty bad ass 😉
WE PROVIDE ALL THE GEAR: Yep, awesome local business, Moonbow Archery, provides all the bows, arrows, protective gear & obstacles for a spectacular, unique evening of fun!
WHO'S INVITED: Official members only. A YEAR of membership is less than, for example, ONE night in a solid Portland hotel. So, yeah, it's worth it.
WHERE: North Mountain Park in Ashland is our beautiful setting for another amazing night of playful connection.
POST GAME CONNECTION: Our official After Play Party Place is the Standing Stone, just a short fly of the arrow away. We promote and work with awesome local businesses like the Standing Stone to connect rad people with rad places to support!
COST:
ROYAL MEMBERS: $19
FERRIS MEMBERS: $22
MURRAY MEMBERS: $25
NON-MEMBERS: $29
**NORMALLY COSTS $30 TO THE GENERAL PUBLIC
RSVP RIGHT HERE ON FACEBOOK
MUST PRE-PURCHASE YOUR TICKET HERE:
Don't wait, get your bow now!
The Rushmore Society is your premiere real life social network of very busy people tagging life through Adventure, Connection and Play. Do More, Live More, Rushmore.