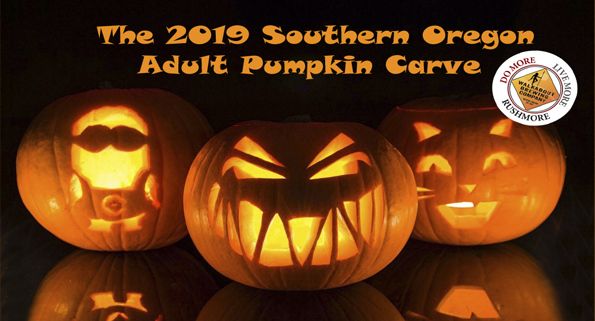 R)?2019 Slash Bash is here
U)?Pumpkins & Pints
S)⚔️Carving & Craft beers?
H)?Social vibe + Silly contests?
ALL(21+)WECLOME, BYOP, DETAILS:
The Rushmore Society, your real life social network of very busy people, invites all of Southern Oregon to join us at our 2019 Slash Bash Pumpkin Carving Contest!
HOW SCARY IS MEMBERSHIP, HMMM:
COMPLETE SLASH BASH DETAILS:
Our Fifth Annual Adult Pumpkin Carve features:
Our rad local business host, Walkabout Brewery, the usual Rushmore scary, social, meet-your-neighbor vibe, and big prizes in three carving categories:
*******************************
Traditional : Creative : Scary
*******************************
PUMPKINS: BYOPumkin
CARVING ITEMS: Rushmore provides some basic carving utensils, trace pens, and pre-made templates. Definitely feel free to bring your own. Just choose your weapons carvfully!?
PRIZES: Each category winner will win internet fame and a Walkabout Brewery Gift Certificate.
The Rushmore Society is Southern Oregon's premiere real life social network of very busy people getting spooked through Adventure, Connection and Play. Do More, Live More, Rushmore.