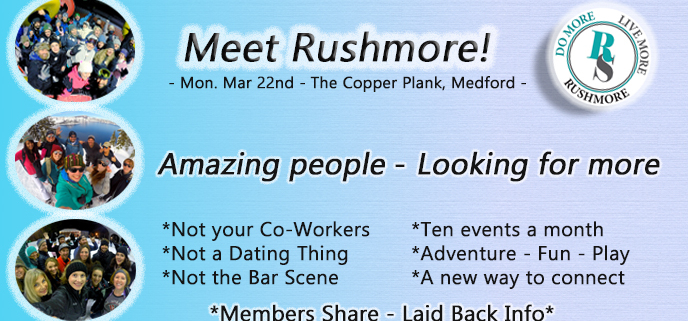 MARCH NEWBIE RALLY CHAT
🥳

CHECK US OUT TODAY

🥳

BECOME A MEMBER




⭐CREATE THE LIFE YOU DESERVE⭐
AND GET TWO MONTHS FOR ONE:
USE THE CODE "RUSHBACK"
Who We Are – What We Do – Why We Do It
MEET THE MEMBERS OF RUSHMORE:
R) —-Come Discover How We—-
U)☀️–Do More & Live More–☀️
S) While having an absolute blast
H) Check out this Rushmore thingy
Every month, the Members of Rushmore Society, your real life social network of very busy people, reach out to say "Howdy!" and share their experiences in the Do More, Live More Crew.  Why? Because…
WE WERE ALL ONCE NEW! AND NOW…
THIS MONTH:
Instead of a full-blown, rockin' sock'em Newbie Rally, due to Covid-restrictions, we have opted for a smaller 'Chat' opportunity to get connected to Rushmore.
Way chill and welcoming. Come by and say "hi". Meet some members. Learn a little about us over an cozy outdoor chat. We've got no agenda except to answer your questions and have a good time.
Rushmore has changed a lot of peoples lives, and maybe it's a fit for you. The only way to find out is to check it out!
WHO: All more than welcome
VIBE: Social – Positive – Inviting
HOW: Pop in, say "hi", no biggie at all
WHERE: The Copper Plank, Medford

IF YOU DECIDE MEMBERSHIP IS FOR YOU: don't forget to use code "RUSHBACK" to get two months for one FREE to try us out!
WANT TO LEARN MORE ABOUT RUSHMORE?
Who We Are – What We Do – Why We Do It
The Rushmore Society is Southern Oregon's premiere real life social network of very busy people always ready for something NEW with Adventure, Connection and Play. Do More, Live More, Rushmore.