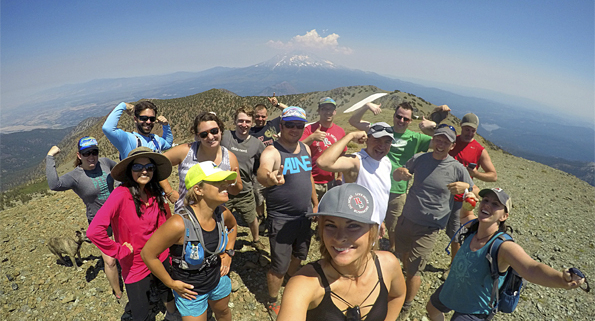 💫2019 AUGUST HIKE SERIES💫


LOOK OUT

EDDY

LET'S GO


💫GET FIT – CONNECT – EXPLORE💫
SPECIALLY DESIGNED SMOKE-FREE
We know smoke can get us all down, which is why we've developed our August Hike Series specifically in areas that are LESS LIKELY to have smoke — think high up, near lakes. See all our August Hikes and check out all our other SMOKE-FREE upcoming events HERE.
WHY MEMBERSHIP MAKES SENSE
WE PROVIDE EVERYTHING YOU NEED:
💥Thirty-Two Hikes April thru November
💥Carpooling – Maps – Hike Difficulty Rating
💥Evenings & Weekends – Doggie Info
💥Perfect Picture Spots – Post-Hike Fun
💥Cool People – Rad Concept – Positive Vibes
Learn what everyone is raving about, and try a whole month on us for FREE using the code "HikeRush2019" when you check out at membership!
RUSHMORE HIKE BASICS:
WHO: All welcome / MEMBERSHIP DETAILS ABOVE
VIBE: Social — Positive — Fun
WHAT TO BRING: Lunch – Water – Camera – Smile – Sunscreen – Hat – Good Trail Shoes
MT. EDDY HIKE SPECIFICS:
CARPOOL POINT: Luna Cafe / 8:30 am
HIKE DEPARTURE: 8:50 am
ESTIMATED RETURN: 6:00 pm
ALSO BRING: Swimming clothes to hop in Lake!
REACHING SUMMIT DIFFICULTY: Challenging
REACHING LAKE: Moderate
DOGS: Yes, doggies are allowed
MOUNT EDDY & LAKE DESCRIPTION:
We're headed south to cover 11.1 miles and 2,562 ft in elevation gain, and the perfect 9,045 ft Mt. Eddy and Deadfalls Lake in NorCal.
Just 80 minutes down I-5, this hidden gem offers tons of potential: a tough workout or a lazy day by the lake, your choice! Either way, gorgeous views are your reward!
This moderate (if you chose to just go to the Middle Falls Lake) to strenuous hike (if you summit) to the top of Mt. Eddy rewards us amazing easterly views of Mt. Shasta, and a gorgeous pit stop at mile point 3.5 of our jaunt, Middle Deadfalls Lake, with its breathtakingly pristine high lake waters.
From the trailhead, look for Pacific Crest Trail (PCT) signs leading south and initially paralleling the chip-sealed Parks Creek Road. The PCT (hikers and equestrians only) stays mostly level at the onset and soon provides views of the Trinity Alps from a northeast vantage point. Red fir and white fir mix with Jeffrey pine and ponderosa pine to shade patches of dwarf larkspur and yarrow as you travel to a seasonal creek at 1.1 miles. Another stream gurgles down to scenic Deadfall Meadows at 1.8 miles, where yellow lupine and white-flowered angelica combine with sage for showy trailside color. The wildflower displays keep coming, with corn lily and red columbine surrounding another brook at 2.1 miles.
Western white pine dominates at 2.2 miles as you first sight Mount Eddy's southwest shoulder, along with the upper meadows where Deadfall Creek meanders. Reach a trail sign mounted on a huge western white pine at 2.6 miles. A right here would quickly lead you to Lower Deadfall Lake, which has a few campsites but loses a lot of water by late summer. Focus your attention on the prettier lakes farther on by going left and continuing uphill on the Sisson–Callahan Trail.
You soon spot Middle Deadfall Lake on the right. Big rocks on the shoreline make great sunbathing and dipping spots, and you'll also find several campsites. A marsh covered with marigolds empties into Middle Deadfall Lake's north side. Rejoin the Sisson–Callahan Trail near this colorful marsh, and then wander past a pure stand of western white pine on your way to Mount Eddy.
At 3.1 miles, just before the first of three alpine ponds, foxtail pines appear. Three superb campsites exist at the first pond, which reflects the orange metamorphosed rock of the west flank of Mount Eddy. Reach the meadow above Upper Deadfall Lake at 3.6 miles. A sand-bottomed brook wanders through the meadow, where wild onion, buttercup, and bird's-foot grow next to a spring. The path ascends to the southwest, allowing numerous views of the Deadfall Lakes and the Trinity Alps in the distance.
At 4.2 miles you reach Deadfall Summit. Go left at a trail fork and climb relentlessly for the next 0.8 mile, gazing at displays of the upper Sacramento River drainage to the east and Castle Crags to the southeast, as well as a mix of shiny metamorphic stones and alpine wildflowers at your feet. An excellent vista of Mount Shasta awaits at Mount Eddy's summit. In addition to all previously encountered views, you'll also see Black Butte.
DRIVING DIRECTIONS FROM LUNA: Drive south on Interstate 5, 3.4 miles beyond the Weed turnoff, and take exit 751 Edgewood/Gazelle. Go under the freeway, turn right at the stop sign, and after 0.3 mile turn left onto Stewart Springs Road. At 4.7 miles turn right onto Forest Road 17, also known as Parks Creek Road. Park at the large trailhead clearing at Parks Creek Pass, 13.7 miles from the freeway exit.
New Places, Fresh Faces, RSVP RIGHT HERE!
The Rushmore Society is your premiere real life social network of very busy people living life to the fullest with Adventure, Connection and Play. Do More, Live More, Rushmore.