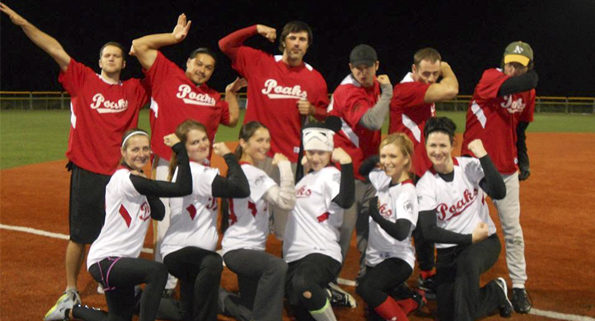 Join the Rushmore Co-ed Softball Team
RUSHMORE MEMBERS: $9 — NON-MEMBERS: $19
ALL THE BASICS:
We are so excited about our 2019 Fall Team. We will again mix our official members with awesome non-members to help fill out our roster and build community in Southern Oregon!
OUR VIBE: our goal is to mesh competitive spirit with chill, supportive vibe. We cheer when we strike out or hit a homer. This ain't the World Series. But it ain't goofy roll around and pick daisies either. Just smile and try your best.
OUR SKILLS: we have a wide range of experience and abilities.
WHEN ARE GAMES: Tuesdays, from Sept 17th to November 12th, between 6 and 8:30 pm at U.S. Cellular Fields in Medford.
I CAN'T PLAY EVERY GAME, BUT: totally. No one is expected to play every game. Jobs, summer vacations, conflicting events, etc. happen all the time. Sign up as an alternate!
PRACTICES: we will non-mandatory but important practice on Tuesday, September 3rd & 10th from 6:45-8:00 pm at U.S. Cellular Field #5 (where many of our games are played). This will be posted in the Facebook group page.
ALTERNATES: we can ALWAYS use alternates. Not able to attend every game, but want to be on the list to play? AWESOME!
UNIFORMS: we will have team jersey's ready for fall ball. Jersey's are $8. Money will be collected and jersey's distributed at the first game on Sept. 17th.
GOT QUESTIONS: just ask us!
RUSHMORE MEMBERS: $9 — NON-MEMBERS: $19
The Rushmore Society is your premiere real life social network of very busy people living life through Adventure, Connection and Play. Do More, Live More, Rushmore.