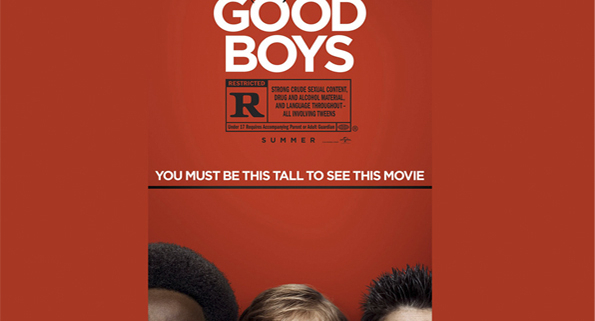 MEMBERS: $6 — NON-MEMBERS: $9.75
WATCH THE TRAILER HERE
R) Rushmore First Look Movies
U) August Premiere: Good Boys
S) 🌟A RAUNCHY ADVENTURE🌟
H) MEMBER $6 – NON-MEMBER $9.75 –
DON'T FORGET THE PRE-SHOW FUN TOO:
The Rushmore Society, your real life social network of very busy people, invite our members to a special, exclusive first showing of our August Movie of the Month: Good Boys.
RSVP ON FACEBOOK RIGHT HERE!
Critics Consensus:
Three sixth grade boys ditch school and embark on an epic journey while carrying accidentally stolen drugs, being hunted by teenage girls, and trying to make their way home in time for a long-awaited party.
Invited to his first kissing party, 12-year-old Max asks his best friends Lucas and Thor for some much-needed help on how to pucker up. When they hit a dead end, Max decides to use his father's drone to spy on the teenage girls next door. When the boys lose the drone, they skip school and hatch a plan to retrieve it before Max's dad can figure out what happened.
Most excellent!
Not a member? Holy Cow, check it out!
ALL THE MOVIE EVENT BASICS:
WHO: all positive, cool people welcome
VIBE: social — fun — silly
PRE-MOVIE SOCIAL HOUR: 5:50, Baja Fresh
MOVIE START TIME: 7:00 pm
***For those interested, we meet at Baja Fresh in the Tinseltown Complex, around 6 pm for eats and social fun. Then, we head on over the the theater 10 minutes before showtime.
MUST PRE-PURCHASE YOUR TICKET HERE:
The Rushmore Society is your premiere real life social network of very busy people living life through Adventure, Connection and Play. Do More, Live More, Rushmore.