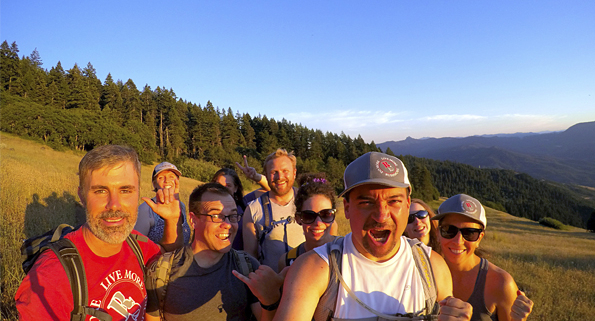 💫2019 BONUS HIKE SERIES💫


LOOK OUT

GREEN SPRINGS

LET'S GO


💫GET FIT – CONNECT – EXPLORE💫
WHY MEMBERSHIP MAKES SENSE
WE PROVIDE EVERYTHING YOU NEED:
💥Thirty-Two Hikes April thru November
💥Carpooling – Maps – Hike Difficulty Rating
💥Evenings & Weekends – Doggie Info
💥Perfect Picture Spots – Post-Hike Fun
💥Cool People – Rad Concept – Positive Vibes
Learn what everyone is raving about, and try a whole month on us for FREE using the code "HikeRush2019" when you check out at membership!
RUSHMORE HIKE BASICS:
The Rushmore Society, your real life social network of very busy people, INVITE ALL to join us on our famous Southern Oregon hikes. It's one of the easiest, coolest ways to meet neato active people!
WHO: All welcome / MEMBERSHIP DETAILS ABOVE
VIBE: Social — Positive — Fun
WHAT TO BRING: Lunch – Water – Camera – Smile – Sunscreen – Hat – Good Trail Shoes
GREEN SPRINGS HIKE SPECIFICS:
CONNECTION POINT: Luna Cafe
CARPOOL DEPARTURE: 20 min after meet up time
ESTIMATED RETURN: 3 hrs later
DOGS: Yes, doggies are allowed
HIKE DIFFICULTY RATING: moderate
HIKE DISTANCE: 4.6 miles – little elevation gain
COMPLETE GREEN SPRINGS DESCRIPTION:
GREEN SPRINGS IS RATED "EASY-PEASY". We cover 4.6 miles with little elevation gain.
While one of the easier hikes Rushmore offers, beautiful views of Mount Ashland abound. It's a short and scenic hike with almost no elevation gain. In the spring and early summer the trail is bordered with wildflowers and edible miner's lettuce. Offering great views and opportunities for wildlife viewing.
The viewpoint, located about 1.2 miles from the start, is often a great spot to see deer and birds of prey. It is also the only part of the hike where you will be able to see the last remaining old-growth trees in the area, some of which show scars from the wildfires that have affected the area. The south-facing section of the trail takes us through a prairie (seen in our Event Picture) with an open view of the valley before heading back through the forest.
DRIVING DIRECTIONS:
Directions from Luna: Head out hwy 66 for 15 miles. A large parking lot turn off is on the left (with Hobart to the right). Park off 66 between mile post 15-16.
Sky is the limit. RSVP RIGHT HERE NOW!
The Rushmore Society is your premiere real life social network of very busy people living life to the fullest with Adventure, Connection and Play. Do More, Live More, Rushmore.