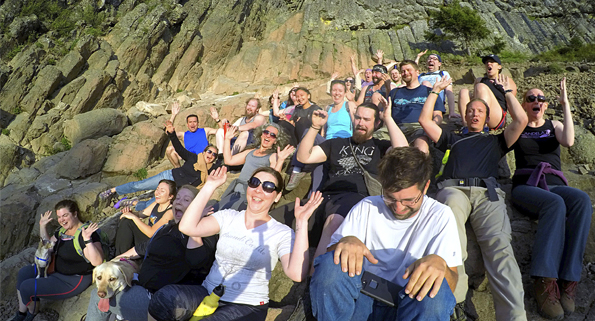 💫2019 FALL BONUS HIKE💫


LOOK OUT

PILOT ROCK

 WE GO


💫GET FIT – CONNECT – EXPLORE💫
WHY MEMBERSHIP MAKES SENSE
WE PROVIDE EVERYTHING YOU NEED:
💥Thirty-Two Hikes April thru November
💥Carpooling – Maps – Hike Difficulty Rating
💥Evenings & Weekends – Doggie Information
💥Perfect Picture Spots – Post-Hike Beers
💥Cool People – Rad Concept – Positive Vibes
Learn what everyone is raving about, and try a whole month on us for FREE using the code "HikeRush2019" when you check out at membership!
RUSHMORE HIKE BASICS:
The Rushmore Society, your real life social network of very busy people, INVITE ALL to join us on our famous Southern Oregon hikes. It's one of the easiest, coolest ways to meet neato active people!
WHO: All welcome / MEMBERSHIP DETAILS ABOVE
VIBE: Social — Positive — Fun
WHAT TO BRING: Lunch – Water – Camera – Smile – Sunscreen – Hat – Good Trail Shoes
PILOT ROCK HIKE SPECIFICS:
CONNECTION POINT: Luna Cafe / 11 am
CARPOOL DEPARTURE: 11:20 am
ESTIMATED RETURN: 4 hours later
DOGS: Yes, doggies are allowed, but not to top
HIKE DIFFICULTY RATING: moderate
HIKE DISTANCE: 4.9 miles – 1,057 elevation gain
COMPLETE PILOT ROCK DESCRIPTION:
Yep, it's a Southern Oregon classic, Pilot Rock.
FIRST OFF: no pressure whatsoever to go all the way to the top, which requires a like scrambling, and a tiny bit of bravery. We have an alternative route if going to the summit isn't in the cards.
PILOT ROCK IS RATED "UP-UP-AND-AWAY" FOR MODERATE. We cover 4.9 mile with 1,057 ft elevation gain.
Short and sweet, the trail leading to the top of Pilot Rock is worth the effort. The scramble to the summit offers a stunning 360° view of Southern Oregon and Northern California.
The trail starts at an old quarry and follows a blocked-off forest service road for the first 3/4 mile, gaining about 200ft in elevation. It then takes a left onto the Pacific Crest Trail. The path stays with the PCT for about a 1/5 mile and 50ft of elevation. At this point, the well-marked and well-worn trail diverges and starts to gain all its elevation.
This steep dirt trail leads to the base of Pilot Rock. The last bit of the trail is a scramble up a gully on the West side. A couple exposed, 6-8 ft, near vertical rock steps must be climbed to obtain the summit. While not overly difficult, care should be taken during this last section.
Remember: what goes up must come back down! Also, loose rocks are abundant here. Make sure not to knock anything down onto other hikers!!!
DRIVING DIRECTIONS:
Directions from Luna: Merge onto I-5, heading South, just South of town. Take exit 6 towards Mt Ashland. Follow this past Mt Ashland and under the interstate. Turn left on Pilot Rock Road/BLM 40-2E-33. Follow this till a parking lot/old quary appears on the right. This is the trailhead.
NOTE: The road leading to trail head is ROUGH, requiring at least some clearance.
Sky is the limit. RSVP RIGHT HERE NOW!
The Rushmore Society is your premiere real life social network of very busy people living life to the fullest with Adventure, Connection and Play. Do More, Live More, Rushmore.