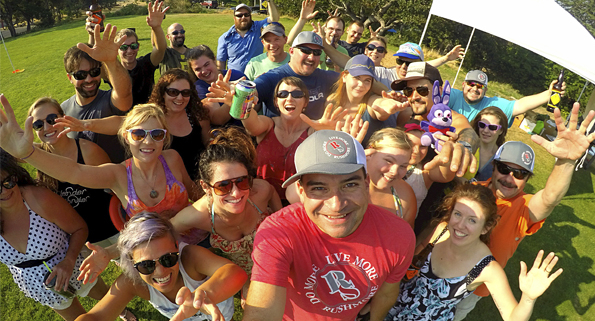 💫MEMBERS, WE LOVE YOU💫
💫FREE BBQ – APPRECIATION – PARTY💫
💫RSVP YOUR SPOT BY 7/21💫
MEMBERS: $FREE – NON-MEMBER plus ones: $11
R) Celebrating our amazing members!
U) Invite +1's, +2's, +3's ($11)
S) BBQ – Salsa Bar – Brews – All FREE
H) Lawn Games – Lake Fun – All Provided
In Partnership with:
💋HUGE BBQ SPREAD by Southern Oregon Fine Meats
🍻DELICIOUS BEVERAGES: Walkabout Brewing
The Rushmore Society, your real life Social Network of Very Busy People, INVITE OUR MEMBERS to invite their pals and significant whatevers to our special Annual Emigrant Lake Member Appreciation BBQ.
TICKETS & INFORMATION:
MEMBER RSVP REQUIRED BY 7/21. Member RSVP and Non-Member tickets below.
💥WE PROVIDE the meats, brews, plates, coolers, ice, lawn games, etc. 👉 You bring a side to share, and any invites you want, who are $11 each.
💥YOU BRING A SIDE of fruit, pasta, veggie salads, chips, beans, sodas, ect. This will be organized on Facebook.
YOUR PLUS 1's = $11

NOT A MEMBER YET? HOLY COW:
WHERE – WHAT TO BRING BASICS:
ARRIVE: really anytime, on time, whatever
BRING: side dish, swim gear, lawn games, extra meats if you wish, and of course a smile.
WHERE: Section D. Just past the entrance. Just follow the map at the entrance of Emigrant Lake.
Don't miss this opportunity to casually kick it with friends old and completely new. ALL MEMBERS WELCOME, make sure to buy non-member +1's a contribution ticket!
MEMBERS FREE – PLUS 1's = $11

The Rushmore Society is your premiere real life Social Network of Very Busy People living life through Adventure, Connection and Play. Do More, Live More, Rushmore.