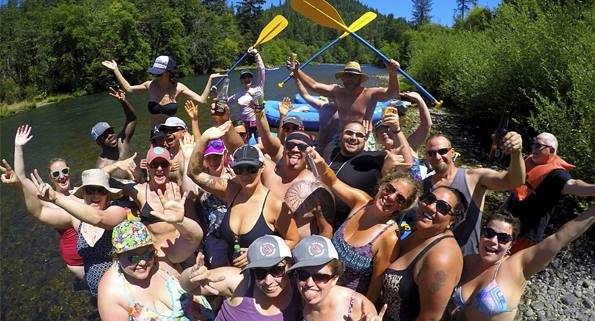 ?OUR THIRD ANNUAL FLOAT?
?FLOAT – CONNECT – PARTY – EXPLORE?
?
SPECIAL MEMBER TICKET PRICE

?

RUSH MEMBERS: $11 – NON-MEMBER plus ones: $22
WHY MEMBERSHIP MAKES SENSE
MAKING LIFE FUN – MAKING PLANNING EASY:
?More than 135 events a year!
?Adventure – Connection – Play
?Discover New Places & New Faces
?Cheap Contributions – Big $Savings$
?Diverse People – Rad Concept – Positive Vibes
Learn what everyone is raving about, and try a whole month on us for FREE using the code "Rush2019" when you check out at membership!
R) Dive into Rushmore Summer
U) 3.5 hr Casual Float – Social vibe
S) And Rapidly Gaining Pleasure
H) Big Boat☀Little boat☀Kayak
MEMBERS & PLUS ONES ONLY:
The Rushmore Society, your Social Network of Very Busy People, invites our members and their invitees interested in becoming a member of the chilliest, most positive posse around, to a lazy day of floating the Rogue River.
ALL THE BASICS:
It's a rite of passage every summer in Southern Oregon, the 3.5 hour section of the Rogue River along Shady Cove, and the best way to do it is with Rushmore. Get ready to paddle and laugh all day long.
CARPOOL CONNECT: N. Fred Meyers, 9 am
RAFT RESERVATION: 10:00 am
POST RAFT REFRESHMENTS: Phil's Frosty
RETURN TIME: 4 pm
WHAT TO BRING: Hat, sunscreen, snacks, beverages
WHO: Invite your pals interested in membership
LIMITED SPACE: 20 paid attendees
COST: Early Bird Special is sold out, but cheap tickets still remain!
RUSHMORE MEMBERS: $11
NON-MEMBER plus ones: $22
BOAT INFORMATION:
Based on number of paid RSVP's, we will rent up to four large 10 person rafts, and place 8 people in each (the extra room for coolers, and it's just nice to be able to spread out).
We may also rent a couple six-person rafts as needed. Individual kayaks may also be rented for an additional cost. If you wish for a solo kayak, please buy your ticket and send Rushmore a message, we will rent it for you, and you can pay us the difference.
The Rushmore Society is your premiere real life Social Network of Very Busy People floating life through Adventure, Connection and Play. Do More, Live More, Rushmore.