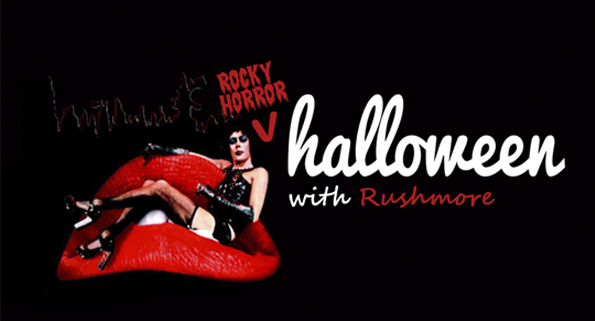 2019
H

A

L

L

O

W

E

E

N

E

V

E

N

TS
EIGHT SPOOKY GATHERINGS
?IN THE SPIRIT OF THE SEASON?
?BECOME A MEMBER THIS OCTOBER?

GET YOUR FIRST MONTH FREE:
USE THE CODE "ScaryRush"
R) Cult Classic Fun
U) Live – On Stage – Halloween Eve
S) Join Rushmore & Dr. Frank-N-Furter
H) Social vibe – Audience participation
LIMITED TICKETS – BIG DISCOUNTS:
The Rushmore Society, your real life social network of very busy people, invites OUR MEMBERS and their +1's to join us on Halloween Eve (the 30th) night at the Oregon Cabaret Theater for Rocky Horror Live!
RSVP "GOING" ON FACEBOOK RIGHT HERE
This rowdy and social event is a blast, whether you've seen the RHPS 1000 times, or you're a complete virgin. We've provided a complete description of the show below for the uninitiated.
COMPLETE EVENT DETAILS:
PRE-SHOW CONNECTION: No-host drinks and fun starting at 6pm at Hearsay Restaurant (right next door to the theater).
THEATER CONNECTION: arriving after 7:30? Meet the crew at the OCT lobby. The show starts at 8.
COST: (this costs the general public $38)
ROYAL MEMBERS: $23
FERRIS MEMBERS: $28
MURRAY MEMBERS: $31
NON-MEMBER PLUS-ONES: $35
*Discounts good until Oct. 21st, 9pm
**Limited Space: 17 tickets
***Non-refundable
RSVP "GOING" ON FACEBOOK RIGHT HERE
ORIGINAL TRAILER – SHOW DESCRIPTION:
It's back for 2019! In this cult classic, newly engaged Brad and Janet become stranded at the eerie mansion of the mad transvestite Dr. Frank-N-Furter on the eve of his greatest triumph – the creation of a gorgeous muscled hunk named Rocky.
WARNING: The Rocky Horror Picture Show is not recommended for the easily offended. this show deals with MATURE subject matters in an IMMATURE way. If sex, drugs, rock & roll, adultery, cannibalism, incest, cross-dressing, aliens, bisexual water sports, homosexual eye movements, and above all, SHOW TUNES are not your cup of tea, this may not the the show for you.
Your best Halloween in years. Let's go!
The Rushmore Society is your premiere real life Social Network of Very Busy People living life through Adventure, Connection and Play. Do More, Live More, Rushmore.