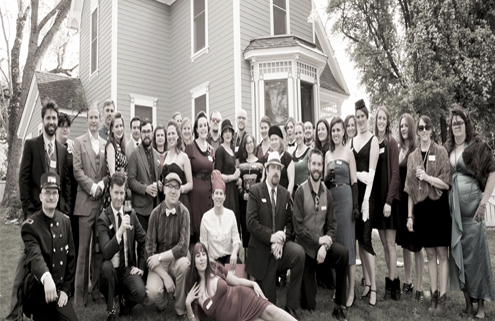 ?? 2019 Murder Mystery ??


HALLOWEEN LIES
MEMBERS: $6/10/14/
SPECIAL MEMBERS-ONLY PRICES
PLUS ONE NON-MEMBERS: $25
*Ticket includes:
Character – Vineyard Setting
Photos – Beverage – Finger Foods

R) Scary Fun Murder Mystery
U) It's 'Oscar' Night in Rushmore
S) And the biggest Stars will be here
H) Then, suddenly, a murder!
ALL WELCOME – DON'T WAIT:
The Rushmore Society, your real life Social Network of Very Busy People, invite OUR MEMBERS and their plus ones, twos and threes, to experience the ultimate Murder Mystery…in 'Halloween Lies'.
BASIC EVENT INFO:
STEP ONE: Grab a ticket to the party
Royal Members: $6
Ferris Members: $10
Murray Members: $14
Non-member plus ones: $25
STEP TWO: Receive a character

Characters are given out on a first come, first-to-purchase basis. If you have a specific type of character you are just dying (pun) to play, please let us know and we'll do our best based on the remaining list.

STEP THREE: Read through your characters background

You'll learn their motives, objectives, who and what they know and a host of other info that helps you enjoy the game.

 STEP FOUR: Get a scary rad Halloween outfit

Dressing up and assuming a character is more than half the fun of playing a murder mystery. Go all out! And DON'T WAIT TILL THE LAST MINUTE!

STEP FIVE: Arrive at 5:00 pm on the 26th

Getting organized and not feeling rushed is the best way to enjoy the game.

STEP SIX: Have a blast!
TICKETS:
Each ticket includes a detailed description of your character, the rad private setting of Stone River Vineyards, fancy event photos, a first-beverage ticket, and light finger food buffet to munch on while you play.
WELCOME TO HOLLYWOOD (game info):
It is award night and Tom Speed's latest film, The Vampire Detective, has just swept the board and won four "Skellies" for Best Picture, Best Actor, Best Director and Best Screenplay. Sadly, Tom Speed's award for Best Actor was accepted posthumously by his friend, Hayden Vicars, as Tom was killed in a driving accident late last night…
Despite this note of sadness, celebrations are in full swing at The Vampire Detective's post-award party. Deals are being cut for future productions and everyone is having a good time enjoying the atmosphere and mingling with Hollywood's movers and shakers.
Is there anything suspicious about Tom Speed's death? Who will win next year's Skellies? Find out at Halloween Lies.
In Halloween Lies, not everyone is as they seem – some have dark secrets they need to keep hidden . . . and someone is the murderer.
HOW TO PLAY:
All those invited to Halloween Lies are given a character. As you arrive you will be greeted by the Master of Ceremonies, and welcomed to the party. Kick back and grab a beverage, mingle with the other guests.
Your character has goals and objectives that you must complete before the end of the evening. Your character has various skills and abilities that will help you uncover secrets and achieve your goals.
Players can form alliances, blackmail each other, steal items and even try to make the best movie for next year.
Along the way you may solve some of Halloween Lies's mysteries. What is the Post-Modern Freeform Movement up to? Who will get tickets to the charity ball? What really happened on the set of The Snow Beast?
And of course, how did Tom Speed die? Find out in Halloween Lies.
Lights, Camera, Action! Get your tickets today!
RSVP ON FACEBOOK RIGHT HERE
The Rushmore Society is your premiere real life Social Network of Very Busy People living life through Adventure, Connection and Play. Do More, Live More, Rushmore.