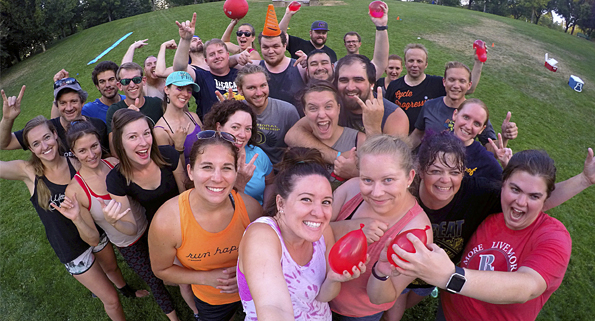 ?‍♀️?‍♂️2019 SUMMER PLAY SERIES?‍♀️?‍♂️
JOIN US

EXTREME KICKBALL

IS ON


?‍♀️THIS AIN'T FOR KIDS – NO, NO?‍♂️
R) Eleven Signature 'Play' Events
U) Coming at you this summer
S)⚡Extreme Kickball is here⚡
H) Wet – Wild – Wicked Fun
COMPLETE KICKBALL DETAILS:
The Rushmore Society, your real life Social Network of Very Busy People, invite all to join us at Fichtner-Mainwaring Park in Medford for a sweaty, slippery evening of being a kid again, with Extreme Kickball!
Our ELEVEN-PART Summer 2019 Play Series is about to kick off!
It's all designed to get you out the door and being a kid again. BECOME A MEMBER TODAY:
EXTREME KICKBALL FOR ALL ADULTS:
BASIC DETAILS – HOW WE PLAY:
WHO: 21+, all positive, playful people
WHY: Sometimes we forget to play
COST: FREE, yer welcome
RSVP ON FACEBOOK RIGHT HERE
POST PLAY PARTY PLACE: Common Block Brew
HOW: Game details below
Extreme Kickball is a spiced up version of regular kickball. Two co-ed teams are created, a line up is turned in, positions are assigned, regular rules apply. Then, the fun begins.
Between each base, a variety of specific tasks are designed to add BONUS RUNS if completed on your journey home.
Some examples include: 
Home to First: spin around a bat
First to second: potato sack race
Second to third: dodge water balloons
Third to home: slip 'n slide to score!
Oh, yeah, you NEED THIS in your life.
Of course, no Rushmore Society event is complete without an amazing opportunity afterwards to socialize, connect, network, meet fresh faces, break out of your shell, change your routine, WHATEVER YOU WANT TO CALL IT.
And thus, we are stoked to have partnered with Common Block Brewery as our official Post Play Part Place Headquarters!
Bottle this, it's summer perfection.
RSVP NOW and INVITE YOU PALS!
The Rushmore Society is Southern Oregon's premiere real life social network of very busy people in search of Adventure, Connection and Play. Do More, Live More, Rushmore.