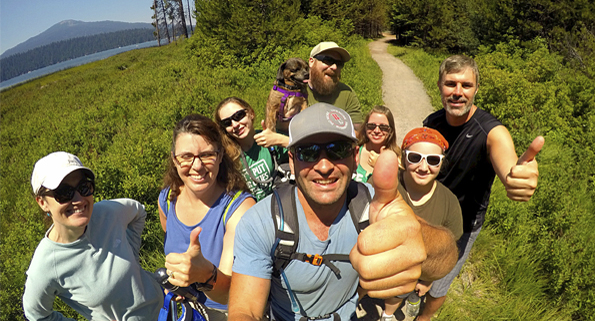 💫2019 AUGUST HIKE SERIES💫


LOOK OUT

WOODS

LET'S GO


💫GET FIT – CONNECT – EXPLORE💫
SPECIALLY DESIGNED SMOKE-FREE
We know smoke can get us all down, which is why we've developed our August Hike Series specifically in areas that are LESS LIKELY to have smoke — think high up, near lakes. See all our August Hikes and check out all our other SMOKE-FREE upcoming events HERE.
WHY MEMBERSHIP MAKES SENSE
WE PROVIDE EVERYTHING YOU NEED:
💥Thirty-Two Hikes April thru November
💥Carpooling – Maps – Hike Difficulty Rating
💥Evenings & Weekends – Doggie Info
💥Perfect Picture Spots – Post-Hike Fun
💥Cool People – Rad Concept – Positive Vibes
Learn what everyone is raving about, and try a whole month on us for FREE using the code "HikeRush2019" when you check out at membership!
RUSHMORE HIKE BASICS:
WHO: All welcome / MEMBERSHIP DETAILS ABOVE
VIBE: Social — Positive — Fun
WHAT TO BRING: Lunch – Water – Camera – Smile – Sunscreen – Hat – Good Trail Shoes
LAKE OF THE WOODS SPECIFICS:
CARPOOL POINT: Luna Cafe / 10:15 am
HIKE DEPARTURE: 10:35 am
ESTIMATED RETURN: 3:30 pm
ALSO BRING: Swimming clothes to hop in Lake!
DOGS: Yes, doggies are allowed
RSVP ON FACEBOOK RIGHT HERE
This casual, rolling hike goes through beautiful, dense forests along Lake of the Woods, as well as popular resort areas, which aren't very secluded, but worthwhile nonetheless.
If the group wishes to add mileage, we can begin on NF 3640 and walked east to Great Meadow.
NOTE: Make sure to bring your change of clothes so you can jump into the lake 🙂 The trail goes through the resort area and very close to recreational areas. After the hike, we may hang out and eat at the LOTW Resort restaurant and have a day by the Lake!
A wonderful, causal day of exercise and lake fun.
The Rushmore Society is your premiere real life social network of very busy people living life to the fullest with Adventure, Connection and Play. Do More, Live More, Rushmore.