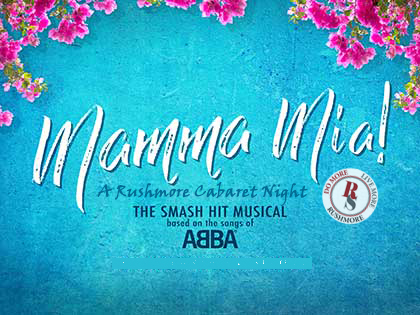 MEMBERS: $24-34 — NON-MEMBERS: $41
SHOW SOLD OUT * SHOW SOLD OUT  
R) The music of ABBA
U) The social Rushmore vibe
S) Romantic Musical Comedy
H)😍It's a perfect Friday night😍
LIMITED TICKETS – BIG DISCOUNTS:
The Rushmore Society, your real life social network of very busy people, invites OUR MEMBERS and their +1's to join us on for Mamma Mia and the music of ABBA at the Oregon Cabaret Theater.
RSVP "GOING" ON FACEBOOK RIGHT HERE
THE SHOW:
This smash hit musical, featuring the music of ABBA, tells the story of a daughter's quest to discover the identity of her father on the eve of her wedding. She brings three men from her mother's past back to the island they had last visited 20 years ago.
"Dancing Queen," "The Winner Takes It All," "Money, Money, Money" and "Take a Chance on Me" are all featured in this feel good night of fun and laughter.
COMPLETE PLOT DESCRIPTION CLICK HERE
NOT A MEMBER? YEAH, IT'S TIME:
USE THE CODE "Rush2019"
😍TO BECOME A MEMBER😍
AND GET YOUR FIRST MONTH FREE
COMPLETE EVENT DETAILS:
PRE-SHOW CONNECTION: No-host drinks and fun starting at 6:30pm at Hearsay Restaurant (right next door to the theater).
THEATER CONNECTION: arriving after 7:40? Meet the crew at the OCT lobby. The show starts at 8.
COST: (this costs the general public $43)
ROYAL MEMBERS: $24
FERRIS MEMBERS: $29
MURRAY MEMBERS: $34
NON-MEMBER PLUS-ONES: $41
**Limited Space: 12 tickets total
***Non-refundable
RSVP "GOING" ON FACEBOOK RIGHT HERE
The Rushmore Society is your premiere real life Social Network of Very Busy People living life through Adventure, Connection and Play. Do More, Live More, Rushmore.