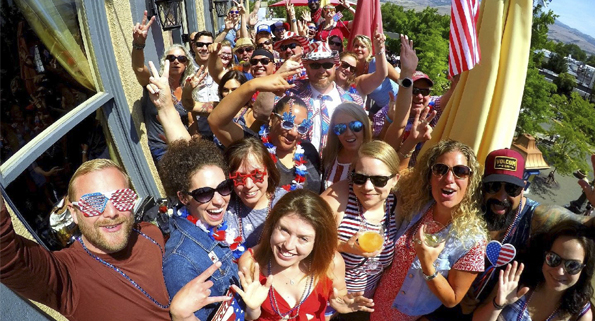 R) This 4th of July
U) A new Rushmore tradition
S) Tastiest BBQ – Coolest Waterslides
H) Live Music – Dancin' – Fun Faces
ALL PARTY-HARDY DETAILS BELOW:
The Rushmore Society, your Real Life Social Network of Very Busy People, invite all our members, plus ones, and kids too, to join us at Smithfield's in Ashland for a special 4th of July celebration right after the City Parade!
ALL EVENT DETAILS:
THE WHO – WHAT – WHERE: Smithfield owner Neil Clooney and his team throw the most amazing 4th of July Parties, right in downtown Ashland, and Rushmore is invited!
FESTIVITIES: as soon as the Ashland Parade ends (usually around 11:30 am) wander up to Smithfield's (36 2nd Street, right off the main Parade drag) and get ready for:
✔Live Music + Dancing
✔Truly amazing BBQ Spread
✔Silly Cool Waterslides (yep)
✔Tons of Friendly Faces
✔And, not gonna lie, great whisky sours
WHEN: 11:30-ish to 4-ish. Murray and the leaders of Rushmore will arrive early to secure a table as a central hub, but you can come when you can, leave when you need.
WHO: all members and plus ones of Rushmore. Kids totally invited too! Come find familiar faces, and meet some new ones! The more Rushies that show, the more fun we can create.
COST: Free entrance. Buy your food and drinks there. the BBQ is ahhh mazzzz ing.
We are out to create some new memories this Fourth, and we'd love to create an incredible party of Rushmore members, so rsvp today, invite your pals, and let's do this!
The Rushmore Society is your premiere real life social network of very busy people living life to the fullest with Adventure, Connection and Play. Do More, Live More, Rushmore.