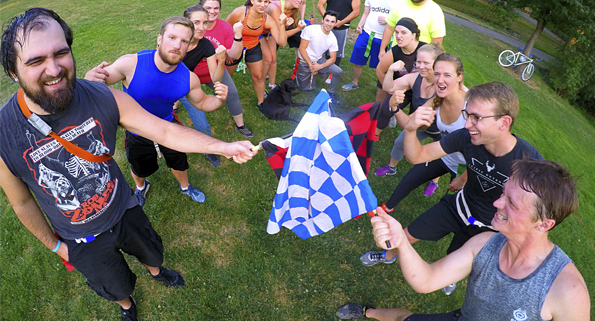 🤸‍♀️🤸‍♂️2019 SUMMER PLAY SERIES🤸‍♀️🤸‍♂️
JOIN US

CAPTURE THE FLAG

IS ON


🤸‍♀️THIS AIN'T FOR KIDS – NO, NO🤸‍♂️
R) 👇Eleven Signature 'Play' Events👇
U) Part of our 2019 Summer Series
S) 🤪🏃‍♀️Capture The Flag returns🏃🤪
H) Post Play Party at Standing Stone
COMPLETE CTF DETAILS BELOW:
The Rushmore Society, your real life Social Network of Very Busy People, invite all to join us at Lithia Park in Ashland for a sweaty, run-and-hide evening of being a kid again.

HOW TO PLAY – ALL ABILITIES WELCOME:
Two teams are created. Each teammate wears the same color flags around a belt (provided).
Lines are drawn. Strategies are forged.
Will you be a scout or a defender, a lookout or a sprinter? All abilities are valuable…if used correctly.
The ultimate goal? To CAPTURE THE FLAG! and return it to your teams side without being caught. Sounds simple, right? Muahhhh!
WHO: All abilities
VIBE: Social, energetic, push-it
WHAT TO WEAR: Sporty gear
WHERE TO MEET: 2nd Duck Pond Parking Lot
POST-PLAY PARTY: Standing Stone Brew
COST TO PLAY: Free
COME, BE A KID AGAIN:
All gear and instructions provided at the game. All abilities are more than welcome.
The vibe is sporty, supportive, fun!
DID YOU KNOW:
CTF in Lithia Park was the very first Rushmore Society event?!? More than 350 events later, we return to where it all started! So, don't be shy, come play with us!
Stop kidding around and come play with the adults!
Game on.
The Rushmore Society is Southern Oregon's premiere real life social network of very busy people playing like kids through Adventure, Connection and Play. Do More, Live More, Rushmore.